Part One:
A profile from Callings that taught me something about vocation was the beer vendor. This profile helped me understand the meaning of vocation. I say this because in the chapter Clancy says, "I was a Division I sprinter in college and I used to race guys up and down the hallways." (Isay 199). You may ask why this quote helped me understand? I chose this quote because Clancy was a very fast sprinter and he could have been fast enough to make a career out of sprinting, but instead, he is a beer vendor at a baseball stadium. It shows that he finds being a vendor his "calling" and by doing that job he has found his purpose as a human being.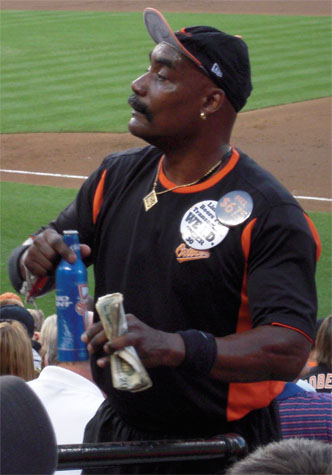 Clarence "Clancy" Haskett making a living as a beer vendor in Oriole Stadium
Part Two:
Another profile that helped me understand a theme in the book was the profile over Arnie Knapp. The theme that the profile helped me better understand was the theme of dedication. Arnie Knapp was a coach driver for touring musicians, so he had to be dedicated to his job because he spent long periods of time on the road and away from his family at home.
Dedication to his job was shown all over in this chapter, but the passage that stuck out most to me was when Arnie was talking about what the touring business had done to his marriage. While talking about the time he's spent with his wife, Judy, he says,
"In our twenty-five years, the most time we've ever spent together in a single block of time is about six weeks." (Isay 205). This screams dedication because if that was me, I'd want to spend as much time with my wife as I could. But for him to stay dedicated and persevere through endless driving and time away from his family shows the true character of Arnie Knapp.
*link is short interview with Arnie the, "Road Daddy".